BEST in a nutshell
Project BEST – Better Efficiency for Industrial Sewage Treatment particularly aims to enhance collaboration between municipalities, industry and waterworks, and to promote best practices in the management of industrial wastewater. Please find a project brochure here.
Several pilot investments will be run at waterworks and food industry facilities to test ways to improve process management and curb load peaks at municipal treatment plants. A survey of the present state of industrial wastewater treatment around the Baltic Sea region will also be conducted, with recommendations then issued for process improvements where industrial wastewater ends up in municipal treatment plants.

Why?
Municipal wastewater treatment plants are primarily designed to treat wastewater from homes by removing organic material, phosphorus and nitrogen during various process phases. These treatment processes can easily be disrupted if plants have to cope with large quantities of industrial wastewater, especially if it contains harmful or toxic substances. Otherwise harmless effluent from food processing facilities may also disrupt municipal wastewater treatment plants if large amounts of materials such as dairy products are suddenly released into sewage systems. Such disturbances can seriously affect the purity of treated wastewater and the quality of residual wastewater sludge. The consequent risk of releases of inadequately treated industrial wastewater and sewage endangers recipient water bodies.
Partnership, duration and budget
Project BEST runs from October 2017 – September 2020 and consists of 16 partner organisations from Latvia, Poland, Finland, Russia and Estonia, with City of Helsinki as its Lead partner.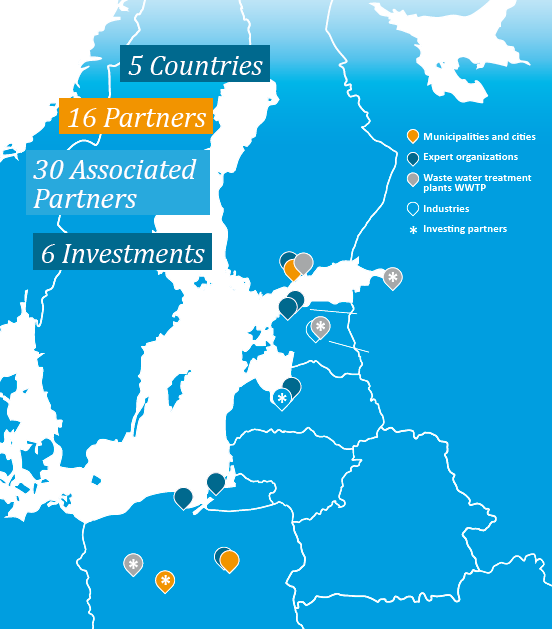 The project is co-financed by the European Union (European Regional Development Fund ERDF and European Neighbourhood Instrument ENI) with financial support of the Russian Federation. The project's total budget is 3.6 million euros (ERDF 2.7 million euros, ENI 131 000 euros, Russian Federation 131 000) euros.