2) Regulation tank for a cheese factory
Epiim cheese factory investment in Project BEST
Summary
Watch an interview with Project manager Kuldar Kipper (before the investment was realized):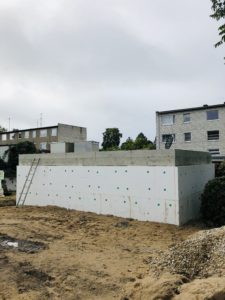 Picture of the construction work of the regulation tank in Epiim cheese factory.
Epiim is discharging it effluent wastewater to the municipal wastewater treatment plant Põltsmaa Vesi. Epiim pre-treats its wastewater through a flotation process before discharge, but the process was not functioning optimally due to inefficient regulation of the process. Thus, Epiim invested in project BEST in a regulation tank in order to equalize the water flow for optimal functioning and capacity of the flotation process. The regulation tank reduces hydraulic peaks to the pre-treatment facility, balances the industrial wastewater content and quality and increases the precision of chemical dosing. The collected flocs are utilized for biogas production.
The regulation tank is placed close to the flotation unit on the yard of the cheese factory.
The Epiim company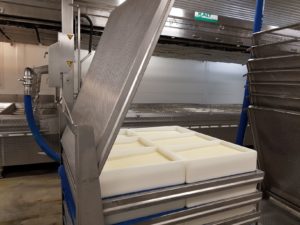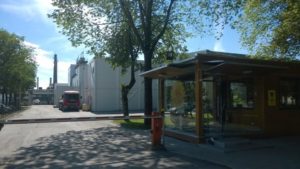 The Epiim company is owned by over a hundred local dairy farmers, and is one of the largest cheese and butter producers in Estonia. Various locations for Epiim's dairies date back as early as the beginning of the twentieth century. The first of them was opened in Põltsamaa in 1910, while the second opened in Järva-Jaani in 1911. Today, over 120,000 tons of pure local raw milk is used every year to produce cheese, butter, and milk powder in Epiim's dairy and creamery.
The dairy in Põltsamaa produces traditional medium-hard cheeses, such as Edam, Tilsit, Gouda, and those perennial favorites in the food industry, Baski and Cagliata. Cheeses that deserve a special mention are the Maasdam-style 'Epiim Special' cheese, along with the rather more functional cheese, Harmony™.