WWTP Henrykowo, Leszno
City of Leszno is a beautiful old city, first established already in the 14th century. The City is situated in western Poland with approximately 65 000 inhabitants.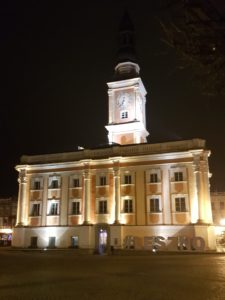 Read more about City of Leszno
Leszno Water Utility owns Henrykowo waste water treatment plant (WWTP) that receives wastewaters and sewage sludge not only from the city area and surrounding communes, but also from several different industrial companies located in Leszno and neighboring areas. The main industrial sector delivering sewage to Henrykowo WWTP is meat industry. There is also potential for further growth of industries already existing in the region.
Henrykowo WWTP was built in 1996 and modernized in 2015. The treatment process includes mechanical separation, chemical phosphorus removal with ferro sulphate and biological treatment by activated sludge. Henrykowo WWTP receives every day 15 000 cubic meters of waste water, which makes 6 million cubic meters each year. Annual amount of industrial sewage is 600 000 cubic meters making approximately 10 % of all sewage. About one third of incoming industrial waste arrives by tanker trucks instead of pipelines.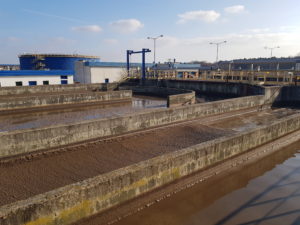 Read more about Leszno Water Utility
Leszno Water Utility investment in Project BEST
In the BEST Project, Leszno water utility and Henrykowo WWTP are investing in a pilot-scale fermentation unit in order to use sewage from e.g. meat industry for biogas production. They will test and define the optimal amounts and quality of sludge from varying industrial sources.
Before piloting the fermentation, the consultant company is running a market research and identifying the potential biodegradable waste to be used in the fermentation process. Furthermore, they are evaluating the potential benefits and challenges of utilizing effluents containing heavy metals and other harmful substances from the point of view of sludge utilization for energy production. In order to do this, they are running laboratory scale tests before installing the pilot fermentation unit.