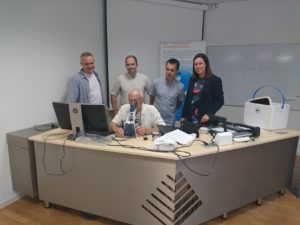 The Estonian Water Works Association (EVEL) arranged an INTERREG Project BEST seminar to draw attention to industrial wastewater. Special attention was given to the impact of industrial waste waters on the activated sludge processes at the treatment plants.
The seminar addressed practical guidelines for both industries and waste water treatment plants. The presentations showed the specific characteristics of the activated sludge in the wastewater treatment process and introduced a wastewater audit that helps industries develop their production processes in order to make the wastewater produced safer and easier to treat.
Professor Emeritus David Jenkins from the University of California, Berkeley made a presentation about the activated sewage sludge processes. He also arranged a workshop for the examination of activated sludge samples previously sent to him by Estonian water companies. Professor Jenkins analyzed the bacteriological composition of the samples under a microscope and outlined the factors that characterized the biological treatment of that specific wastewater treatment plant. As a result, the solutions were suggested for more efficient operation of the wastewater treatment plant in the future.